Your username or email address

Log in
Enter the email address for your account and we'll send you a verification to reset your password.

5 Reasons Why Peanut Butter Can Be Your Best Friend

Peanut butter is extremely rich in dietary fibre.

posted on 10/17/2018 21:00:00
All those who start their day with peanut butter know the kind of bliss they experience daily. That chunky, smooth and buttery texture is all that your eyes want to feast on. It's one of those quick fixes a person can think of when they don't have many options of food around.
Just like coffee is considered as not so healthy for health, similarly, you must have heard about peanut butter, right?
Anyway, we are here to enlighten you with some amazing benefits that peanut butter can help you with. Here they are-
1. It Fills You Up
Peanut butter is quite heavy as compared to the simple butter. A decent amount of peanut butter is sufficient to make you feel full.
2. It Contains Good Fat
People think that peanut butter can be bad for health or makes you gain weight but actually, the fat it contains is good. It also contains monounsaturated fat that is really good for the body provided it's consumed moderately.
3. It Is An Energy Booster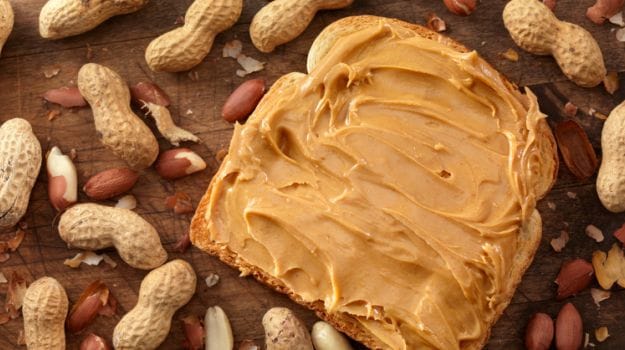 It is advised that peanut butter should be taken in the morning or with breakfast as it contains a lot of good fat. The energy you require to kick start your day is there in peanut butter.
4. It's Rich In Vitamins
Peanut butter also contains vitamin E, vitamin A and vitamin C that helps your body function smoothly.
5. It Is Rich In Fibre
Peanut butter is extremely rich in dietary fibre that helps relieve constipation and also protects your body from heart diseases and cholesterol imbalance.
So now that you know about the qualities in peanut butter, get your stock for the same.
Add you Response
㑼
5 Reasons Why Peanut Butter Can Be Your Best Friend