Your username or email address

Log in
Enter the email address for your account and we'll send you a verification to reset your password.

Parineeti Chopra: I Started Crying When Priyanka Told Me About Nick Jonas' Proposal

Readout complete details of how Priyanka Chopra broke the news of her engagement to her sister.

posted on 10/03/2018 13:23:21
When everyone in India made speculations about Priyanka Chopra and Nick Jonas's relationship, there was one person who knew everything before us and before anybody else did.
You might be thinking it would be Priyanka's mother but even before her it was Priyanka's sister Parineeti! Parineeti has divulged all the details about how she got to know about the two getting in a life time relationship.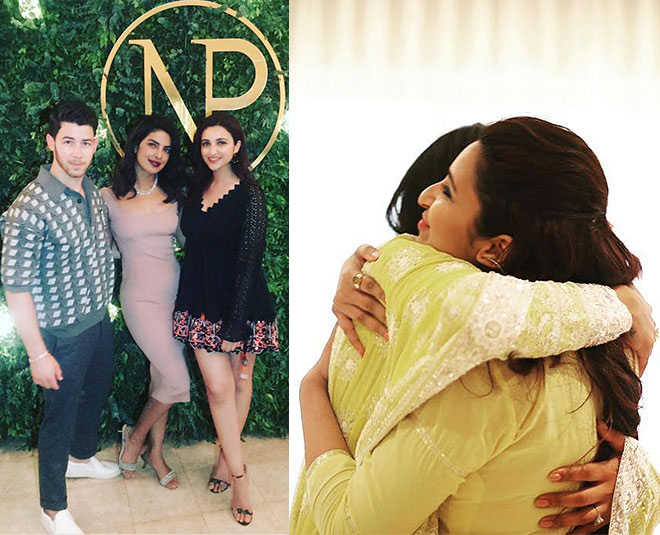 While promoting her upcoming movie, Namaste England, Parineeti is making appearances on the sets of different media houses. Amidst the discussions on the movies and storyline, there comes the best part when the actors reveal something very interesting about their personal life.
So, Parineeti reveals to Filmfare about how Nick popped the question to the Quantico actress.
Nick asked the question from the actress on the day of her 36th birthday in London this year. Reportedly, Nick shut down the stores of Tiffany in London just to choose the special ring for his beloved Priyanka.
Parineeti shared the details saying, "The day he proposed to her, it was her birthday. I got a missed call from her at 3 am. I knew she was holidaying. I Facetimed her. She showed me the ring and I almost fainted. Both Priyanka and Nick were there on call. They were like we had to tell you first. I started crying on the call. It became all emotional and beautiful."
Heaping praise on her future brother-in-law, Parineeti added, "Nick had come to India to ask Badi Mama (Priyanka's mother Madhu Chopra) for her consent. He's really a sweet and mature person, he came to seek permission."
We all have seen how cultured Nick is. The way he has performed all the rituals in the Indian style and celebrating those little moments with his and Priyanka's family is appreciable.
He even confessed his love for Bollywood's 'Desi Girl' on the chat show of Jimmy Fallon, where he said, "It was kind of immediate, and I think we just knew it was right and jumped right in. And we're very happy."
For more interesting stories download the Lopscoop application from Google Play Store and earn extra money by sharing it on social media.
Add you Response
㑼
Parineeti Chopra: I Started Crying When Priyanka Told Me About Nick Jonas' Proposal