Imagine yourself not looking into the mirror when you get up in the morning, instead reading a quote that will give a reflection of yourself. I know it is hard to believe but mirrors are something that show us the image of us, our look and not who we are.
Now imagine roaming the house and getting inspired from the walls too! Isn't it fun?
The same happened in one of the schools in Missouri Ozarks, where Kristen Thompson, a full-time nurse, uses her artistic talents to inspire young girls. The nurse painted the walls and doors of the bathroom of the school in such a way that would give every student the reflection of themselves whenever they visited it.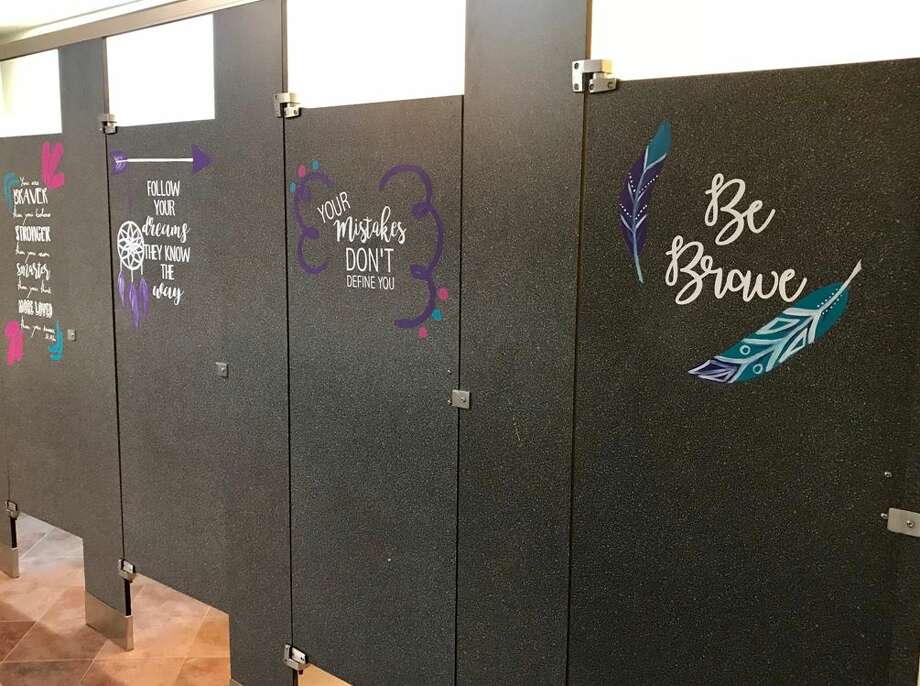 Middle age can be really confusing and tough for teenagers, but there is always a way to relief. With this bathroom's bright cheerful walls and inspiring messages written on every stall door, it'll make you smile and wish this was your middle school bathroom.
Kristen states, "Seeing the smile on those girls faces inspires me." She now hopes to paint the girls high school bathroom and eventually the boy's, as well.
Have a look at the beautiful walls the lady created-
1.
Teenage is the most complicated phase of life. This is the time when children try to copy others in order to be accepted by their peers.
2.
Imagine yourself looking at this quote in place of the mirror.
3.
You are enough for yourself. You don't have to be someone else in order to get accepted by people.
4.
Smile with confidence and you are ready to take on the world!
5.
The quote says it all. Be happy and make other happy too. Everyone is already having a tough life, try to make it a little simpler by being a rainbow to them.
Stay Happy. Keep Inspiring.
For more interesting stories download the Lopscoop application from Google Play Store and earn extra money by sharing it on social media.