The Badshah of Bollywood, Shah Rukh Khan turns 53 today. With the stardom and charisma in Bollywood, the actor has made his mark in the industry with a career span of around 2 decades. Though Shah Rukh Khan is a kind of a person who opens up easily with his fans and media, however, there are few things that very few people know about him. Today we will be discussing some of the things from his personal life that very few people know.
Soumyadipta Banerjee, former Journalist of Times, DNA and Founder of BollywoodJournalist has been quite close to the megastar. She has interacted with SRK through the course of her career and also knows few dark secrets about him which very few people know. According to Soumyadipta, these are not dark secrets but he certainly avoids discussing them in public.
The journalist revealed SRK's dark secrets on Quora.
Let's check out.

#1 About her elder sister
Shah Rukh Khan's elder sister lives with him. She hardly makes a public appearance. Shah Rukh and Gauri take care of her. Her name is Shahnaz Lala Rukh Khan and she is a lovely lady who dotes on SRK.
#2 About his father
Shah Rukh Khan's father died of oral cancer. He had a blister in his mouth which later appeared as cancer. His father was a very good man and a lot of people took advantage of him.
#3 SRK's belief in numerology
Shah Rukh believes in numerology. All his phones numbers (he, his close staff and family) and his car number plates have a particular combination of five and eight. He won't use any other combination of numbers. If you find any high-end car near Bandra West (in Mumbai) with a 555 number plate then there is a good chance that the car belongs to Shah Rukh Khan.
#4 Shah Rukh Khan has never used soap
Shah Rukh doesn't use soap (I distinctly remember him telling me this while talking to me a long time back). He spends a lot of time in the bathroom, sometimes two hours at a stretch. He sings in the bathroom too. By the way, Shah Rukh Khan is a terrible singer. He remembers his lyrics well but he doesn't have sur in his voice.
#5 SRK don't like to take his clothes off.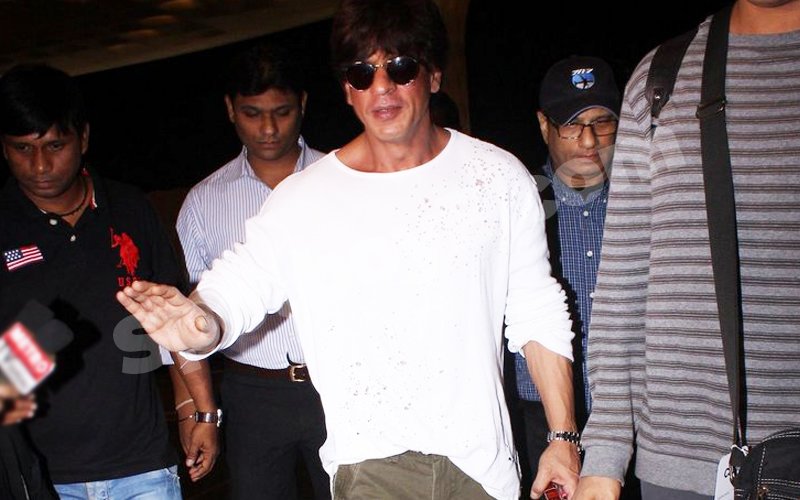 Shah Rukh doesn't like taking his clothes off in front of people. Maybe, that is why you will never find him taking a swim in his own swimming pool at Mannat Extension. He is basically a very shy guy. You will notice that Shah Rukh is always uncomfortable when a movie scene requires him to take his shirt off. Do you remember seeing Shah Rukh in a swimming costume? Not yet, ain't it? He is like that.
For more interesting stories download the
Lopscoop application
from Google Play Store and earn extra money by sharing it on social media.