Your username or email address

Log in
Enter the email address for your account and we'll send you a verification to reset your password.

Priyanka Chopra Dazzles In The White Gown On Her Bridal Shower - Watch Video

The actress looks shining and gorgeous as ever in a white strapless gown.

posted on 10/29/2018 12:10:19
Hold your breath as the bride-to-be Priyanka Chopra has started with her Bridal shower celebration in London on Monday morning. Yes, we know how excited we all are about the actress's bridal look but before that let us take a look at Priyanka's bridal shower.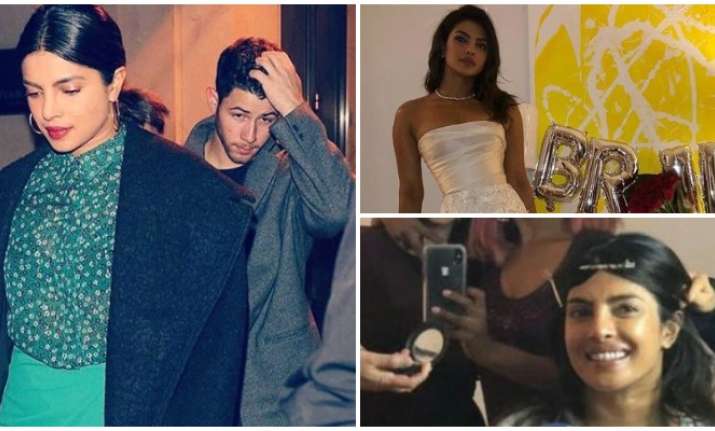 The actress looks shining and gorgeous as ever in a white strapless gown. The pictures from the bridal shower have started surfacing the internet. After chilling with the top Hollywood actresses and celebrities, Priyanka Chopra is all set to rock her bridal shower at the Tiffany's Blue Box Café in New York City.
The posh shower party was thrown by Priyanka's bridesmaid Mubina Rattonsey and Anjula Acharia and the guest list was restricted to the actress's close friends. The dress worn by our 'Desi Girl' was an ivory Marchesa dress and she accessorized it with a diamond necklace and nude kitten heels.
After we all have witnessed her looking like a goddess in her pre-wedding functions, there is no doubt the wedding look is going to be even grander. You might also be curious about the cost of the actress's look, right? Let us shower some light on the same for you. Talking about her ensemble it was an off-shoulder gown with a feather detailing in the front and was worth $5995 which is Rs Rs 4,39,583.
While everyone is excited to see more pictures from the function, we have a video for you from the same. Take a look at the bright setup and also the excited bride-to-be.
On the same day as her Bridal shower, Priyanka shared an adorable picture of her beloved as Nick plays with the baby in his arms.
After seeing the actress all prepared up for her future we too can't contain the excitement for it.
For more interesting stories download the Lopscoop application from Google Play Store and earn extra money by sharing it on social media.
Add you Response
㑼
Priyanka Chopra Dazzles In The White Gown On Her Bridal Shower - Watch Video