India is a Home to countless Travel destinations spread from Himalayan range in the North to Indian Oceans in the south to Bay of Bengal in the east. We bring you 5 most beautiful destinations where you can spend time with your family or close friends.
1. Srinagar, Kashmir
Best Time To Visit: April to October
Major Attractions: Dal Lake, Shalimar Bagh, Tulip Garden, Pari Mahal, and Chashm-E- Shahi
Kashmir is not only the favourite destination of Indians but foreigners too. It's not for nothing that it is called heaven on Earth. On visiting the Valley of Kashmir, Jehangir, one of the Mughal emperors, is said to have exclaimed: "If there is paradise anywhere on earth, it is here, it is here, it is here."
Kashmir is rich in nature, hospitality, and picturesque views that blends well with the amazing weather. Kashmir has four distinct seasons, each with its own peculiar character and distinctive charm. These are spring, summer, autumn and winter.

2. Nainital, Uttarakhand
Best Time To Visit: April to June and September to October
Major Attractions: Nainital Zoo, Naini Peak, Cave Garden, Hanuman Garhi, Jama Masjid Mosque, and more
Surrounded by shimmering lakes, Nainital is one of the top ten holiday destinations which considered as the best place to spend the summers at. With so many fun things to do in Nainital your trip to this paradise is sure to be stressbusters. Bound by the beautiful peaks, lush greenery, valleys and Ballia River, the city is unscrupulous in providing soul rejuvenating experience.

3. Darjeeling, West Bengal
Best Time To Visit: October to March
Major Attractions: Batasia Loop, Himalayan Zoological Park, Peace PagoSamsing, Bhutia Busty Monastery, Rock Garden, and more
Offering stunning views of Mount Kanchenjunga in the backdrop, Darjeeling is considered to be one of the best places for children's holidays in India as much as it is famous for families and couples. From the quiet environs of Peace Pagoda to the joys of the Toy Train, one will never run out on fun tourist places in Darjeeling. The slopes of Darjeeling in monsoon are covered in the lush tea gardens, attracting visitors from far and near. The oaks, birches, maples, chestnuts, and rhododendrons add to the immense beauty of Darjeeling.

4. Coorg, Karnataka
Best Time To Visit: October to March
Major Attractions: Abbey Falls, Nisargadhama, Irupu Falls, Madikeri Fort, Sri Omkareshwara Temple, Pushpagiri, and more.
Be it the lush greenery of coffee plantations, the cascading waterfalls, the Gothic-style churches, or the ancient forts, there are plenty of places to visit in Coorg that have something to offer to everyone across all age groups. Popularly known as Kodagu amidst the locals as well as the travelers, Coorg is undoubtedly one of the best holiday destinations in India one can visit with family and friends.

5. Shillong, Meghalaya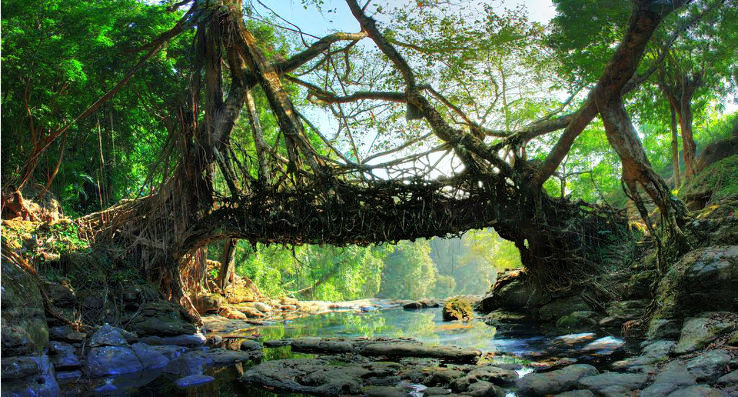 Best Time To Visit: September to May
Major Attractions: Mawlynnong, Shillong Peak, Ward's Lake, Mawsynram, Lady Hydari Park, Don Bosco Museum, and more.
Shillong, the capital city of the most famous state of all seven sisters Meghalaya, attracts a lot of tourists due to its scenic vistas, and picturesque natural attractions. Much famed as "the abode of clouds", Shillong is known for its ancient traditions, well-manicured gardens, mesmeric waterfalls, and lush greenery.

For more interesting stories download the Lopscoop application from Google Play Store and earn extra money by sharing it on social media.